The best Liveplan alternatives in 2022 (Reviews and Pricing)
When we talk about business planning tools, the most popular one is definitely Liveplan. But if you are a millennial entrepreneur, you might think it's not crispy enough, so you could be looking for some fresh Liveplan alternatives.
Now, we'll show you the best alternatives to Liveplan that you can find in 2022, that can help you with turning your idea into a money-making business.
What makes Liveplan so popular?
LivePlan enables entrepreneurs to build a detailed business plan, make financial projections, and create a one-page pitch deck.
Apart from this, one of its strengths is a large base of business plan samples. Plus, there is performance tracking, where you can compare actual business results with the forecast.
Liveplan is used for creating business plans and building investor pitch decks, which are needed in the final stage of business planning. However, we found a few things to be missing and discovered some flaws that could be improved.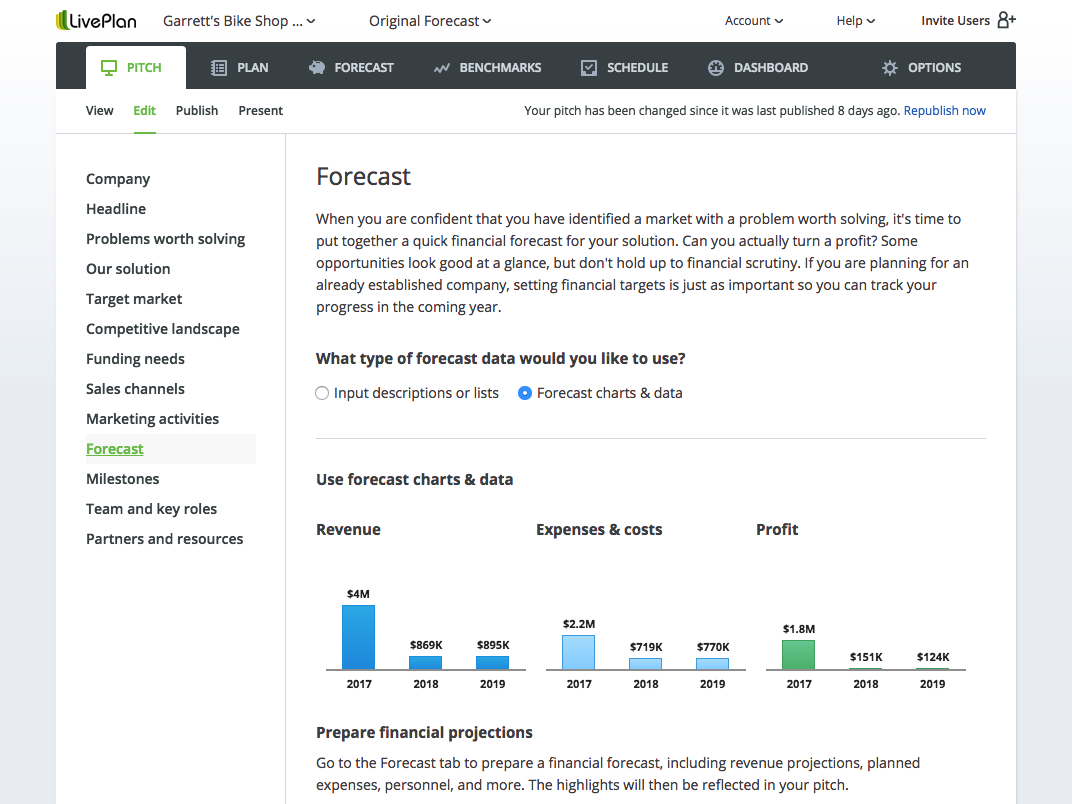 Why search for the Liveplan alternatives?
Here are some of the important limitations and drawbacks of this business planning tool:
Limited planning options
No mobile version
High cost for more companies
No free trial
Top Four Liveplan Alternatives In 2022
OK, we agreed that Liveplan is a quite decent platform for people who want to write a business plan and make a pitch deck. But we also observed that it's not suitable for all stages of business planning.
Also, it's not mobile-friendly, and it's a bit pricey.
So, if this is not a perfect business option for you, let's look into the available Liveplan alternatives.
IdeaBuddy
IdeaBuddy is an innovative business planning software that brings a breath of fresh air among the tools for planning a business.
At first glance, that's due to its simplicity and ease of use, as well as its stunning visual appearance. In addition, IdeaBuddy helps entrepreneurs not only to craft a business plan but to develop their idea from any stage where they happen to be.
So, if you're only sketching your idea, IdeaBuddy has its own business canvas, called Idea Plan, that helps in building a business model.
It's reminiscent of Business Model Canvas and Lean Canvas, but with its own flavor. Your goal is to build your business model by posting idea notes until you've covered all the elements of your business.
The next cool feature is the Business Guide, which is a step-by-step guide with templates that takes you through the five stages of the business planning process.
You can create a marketing strategy, define the target audience, do the competition analysis, and plan all the other elements of your future business.
IdeaBuddy also has automated financials and calculators. with cash flow projections, profit and loss statements, and other important financial metrics explained in an easy way.
Another cool feature is that after you complete all the steps of the Business Guide, IdeaBuddy documents the entire planning process and converts it into a modern business plan.
A cherry on top is the validation tool, where you will be able to get feedback for your business concept, and also get a score for your idea (this feature is coming soon).
Features
One-page business plan (Idea Plan)
Step-by-step business planning guide (Business Guide)
Automatic financial projections (Financial Plan)
Business plan builder (Business Plan)
Idea validation tool (coming soon)
What's unique about IdeaBuddy
The most unique thing about IdeaBuddy (apart from its visual appearance), is its Business Guide. This planning tool fills an important gap in the market by guiding you through all the phases of business idea development. It covers everything from making a business concept and conducting market research to business setup and forecasting future performance.
This feature is ranking IdeaBuddy among the top Liveplan alternatives suitable for aspiring entrepreneurs with no business background. and it's one of the biggest strengths of this app.
Pricing options
Free trial: Yes, 15 days
Dreamer plan – $5 per month (with the annual plan), or $15 if you choose a monthly subscription, you are getting one idea (project) which includes a business canvas, a step-by-step business planning guide, and a financial plan, which you can export to Excel and share with others.
Founder plan – For only $7 per month (with the annual plan) or $20 for the monthly subscription, you can have up to one idea (project) in this plan. This is a full-featured plan, which has everything included in the Dreamer plan, plus a business plan builder, and validation tools.
More ideas (projects) - in case you want to have more ideas or collaborators, both plans have an option to add more ideas/collaborators, where the end price for the bundle is becoming just slightly higher.
*** Lifetime plan – This is a time-limited offer where you can get lifetime access to IdeaBuddy, and it starts from only $75.
Do you have a brilliant business idea, but don't know where to start? IdeaBuddy can help you will that. Get our exclusive lifetime offer and start planning today!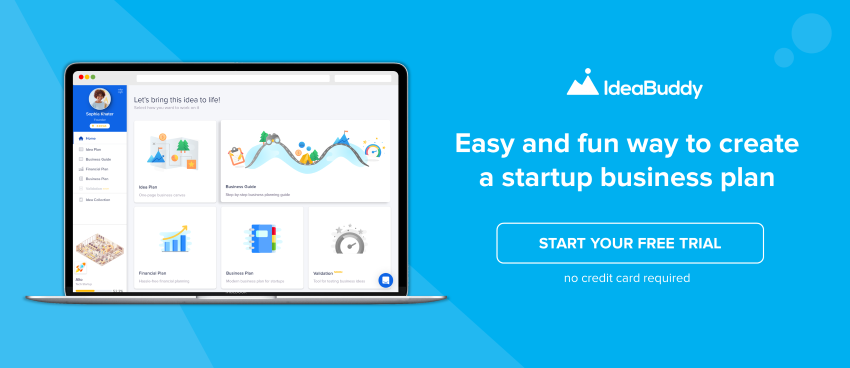 ---
Bizplan
Bizplan is a platform with a modern take on business planning. It features different tools to help people create unique business plans. The platform lets users incorporate visuals into business plans and create attractive presentations.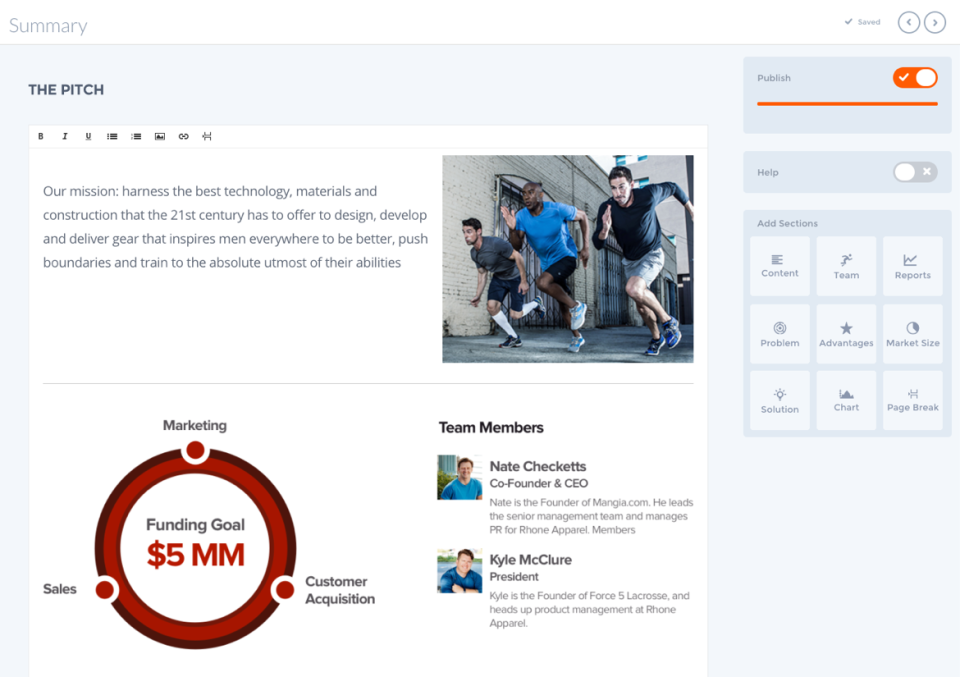 Users can create a business plan that will focus on financials and make sure they are prepared to present their business idea to an investor. It has various financial tools, among which are calculators, budget-feasibility tools, and graph and chart generators.
However, even though it has a step-by-step guide, it is not a full-fledged product. If you're not used to this kind of app, it can be confusing to use it, and overwhelming to cover all the aspects of your idea.
Features
Business plan
Progress tracker
Drag and drop templates
Revenue projections
Team collaboration
What's unique about Bizplan
Bizplan has a clean design and a guided business plan builder with collaboration elements. Also, you can benefit from its automatic financial projections and drag-and-drop modules. This tool is suitable for startups, entrepreneurs, and small businesses that want to create a business plan.
Pricing
Monthly — $29
Annual — $20.75 (billed at $249 per year)
Lifetime Access — $349
The plans include a full-featured business plan builder with access to self-guided online courses and how-to guides to start a business.
---
PlanGuru
PlanGuru is a web-based software that helps small businesses and nonprofits with business planning. Also, it takes care of their financial planning, budgeting, and forecasting in a simple and time-effective manner.
PlanGuru can be used by accountants in preparing budget analysis, building financial forecasts, and dealing with the financial constraints small businesses could be facing. Its users can create and edit balance sheets, income statements, and cash flow statements. Apart from this, it also offers a reporting Excel add-in that lets accountants build reports and manage the data in an Excel spreadsheet.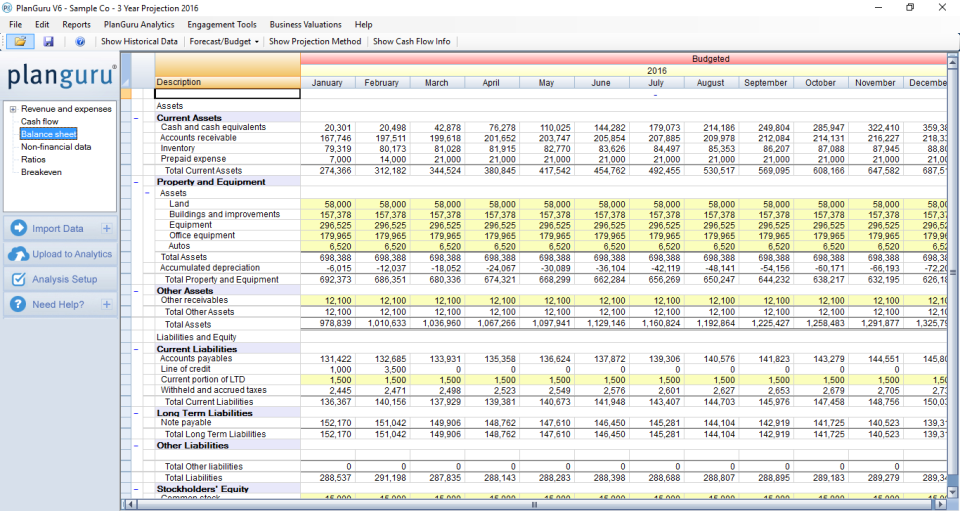 Features
Budgeting/forecasting
Advanced reporting Excel add-in
Cash flow statements
Business validation
Standard report export to PDF, Word, and Excel
What's unique about PlanGuru
PlanGuru is a web-based software with a fully customizable interface that helps you monitor the financial KPIs and track business performance. It comes with a cloud-based finance dashboard, detailed analytics, and a reporting tool.
Pricing
Monthly — $99
Annual — $899
Optional Complete Solutions — contact
Each plan includes a budget/forecast building application with the income statement, cash flow statement, and balance sheet.
---
Cuttles
Cuttles is an online web app for writing business plans and turning ideas into profitable startups. Entrepreneurs and startups can use a one-page plan to structure their ideas and create budgets and forecasts with the Budget feature.
This app aims to aid people in creating business plans that will present and validate their ideas. The one-pager offers a personalized business plan that has creative visual assistance, while the finance tool allows users to track their finances and budgets.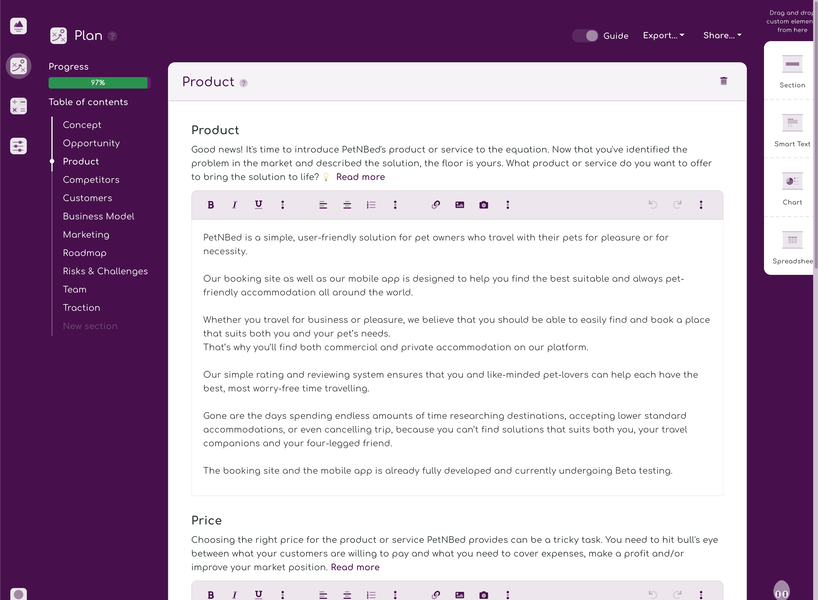 Users can turn any idea into a business and meet potential investors with proper planning tools and resources. And they can track their progress with a simple roadmap feature.
Features
Business canvas
Business plan builder
Budgets and forecasts
Roadmapping tool
What's unique about Cuttles
With Cuttles, people can grow their ideas and write unique business plans with budgets and forecasts. The app focuses on startup founders, where you can track your runway and monthly burn rate.
Pricing plans
Free trial: Yes, 14 days
Dreamer Plan (€15 per month) — up to 1 startup and member, with all features available (canvas, business plan, team, budgets, roadmap)
Startup Plan (€30 per month) — up to 1 startup and an unlimited number of members, with all the features available (canvas, business plan, team, budgets, roadmap)
Unlimited Plan (€50 per month) — for an unlimited number of startups and members, with all features available (canvas, business plan, team, budgets, roadmap)
. . .
Liveplan alternatives: how to choose?
So you're not satisfied with what Liveplan has to offer, and you want to try something different?
I guess we've provided you with enough Liveplan alternatives to consider.
While this popular app is good for making traditional business plans, it does not offer help with the early budding idea stages of business planning. Other Liveplan alternatives might be more appropriate for that phase.
We suggest you try IdeaBuddy or Cuttles, which are the tools that can help you develop your idea through all the stages of idea incubation.
IdeaBuddy is a fun and easy-to-use software with appealing graphics and an innovative business planning guide. This positions it as one of the best Liveplan alternatives for millennials. Also, it comes with relevant examples and financial planning features designed for non-financial people.
On the other hand, Cuttles is handy if you want to make a professional business plan or create a roadmap.
So, what are you waiting for? Pick your business planning weapon of choice and start pursuing your dreams!
Cause they will not come to pursue you.