The Ultimate Guide: How to start a Digital Marketing agency from home
You probably noticed that digital marketing is booming and now you are wondering how to start a digital marketing agency from home?
If you're looking to enter into this lucrative industry, it's easier than you think.
For example, if you wanted to start a digital marketing agency 20+ years ago, the entry barrier was enormous. With a primitive digital landscape, it was nearly impossible without a significant initial expense.
Nowadays, advanced A.I. algorithms can estimate every risk you can encounter starting a digital marketing agency – and it can be a lifesaver for your business idea!
Using the right tools, only one skilled individual and a small team can create a completely sustainable digital marketing agency from scratch!
With a little help, of course.
As we said above, the digital market is spending more than ever before, and everyone wants a piece of the action.
That's why this guide is an actionable, in-depth piece of content that will show you how to start a digital marketing agency from your cozy sofa.
We've outlined this ultimate guide by following the methodology used in Business Guide, a step-by-step guide for developing business ideas that you can use for free if you sign up for our app.
If you're ready to turn your dream digital marketing agency into a financial reality – get ready to dive into this unique adventure!
How to start a digital marketing agency
Chapter 1: Create a business concept
Identify the market needs and offer a solution
Define your USP and portfolio of services
Make a promotional strategy
Create a client acquisition strategy
Define your partnerships
Chapter 2: Market research
Outline your market opportunity
Create profiles of your target clients
Evaluate your competition
Do a SWOT analysis
Calculate your market potential
Chapter 3: Setting up the business
Calculate the total investment needed
Explore different types of funding
Build your core team
Determine other staffing needs
Chapter 4: Projecting your agency performance
Select your revenue model
Forecast revenue and growth
Set your marketing budget
Estimate other overhead costs
Calculate your profit margin and breakeven

Chapter 1: Create a business concept
Identify the market needs and offer a solution
Meeting market needs is crucial, especially for digital marketing agencies looking to attract and retain new clients. But, knowing what your client needs from you is only as good as you use it.
So, how do you meet market needs?
This is where it gets tough. Once you have knowledge and data around what your clients need from you, the next step is integrating that data into the services your agency offers.
There is a simple framework that will help you identify, understand, and ultimately meet market needs.
Follow this simple 4-step scheme that will keep you on the right track!
Identify what your clients need through extensive keyword research
Distribute the information to your team members in your agency and brainstorm the solutions
Build service features or create content that speaks to your clients' needs
Collect clients' feedback on how your efforts meet their expectations
After you've identified what market needs are testing your potential clients, take the data you've collected seriously. If clients or potential clients ask for something, big or small, make sure you have specific service and deliver it in time.
Digital marketing agencies with a developed methodology for collecting and sharing client's insights within internal teams will have the best luck meeting market needs through understanding client expectations.
Define your USP and portfolio of services
Take a moment and answer this question.
What will distinguish your agency from similar digital marketing agencies on the market?
You probably had several things that come to your mind.
Providing a long list of every feature of your services is not that good selling technique, but you are on the right track. Use that list to form a Unique Selling Proposition – USP.
A USP is a concise statement of your service. It describes how your service solves the client's challenge and why it's a better choice than other agencies offer.
Define your service portfolio
Keep in mind that your goal at the early stage is to keep your costs low and depend on your team skills.
Use your team's most beneficial skills to define your digital marketing services. Some of the full-service digital marketing agency offers are:
Web and Graphic design
Social Media marketing services
Content marketing services (Blog, Newsletter, Sales Pitches, etc.)
PPC Services (Google Ads, Facebook Ads, Instagram Ads, etc.)
Email Marketing services
SEO Services
Lead Generation
The advice is to start with the basics. Later you can easily add more services to your portfolio.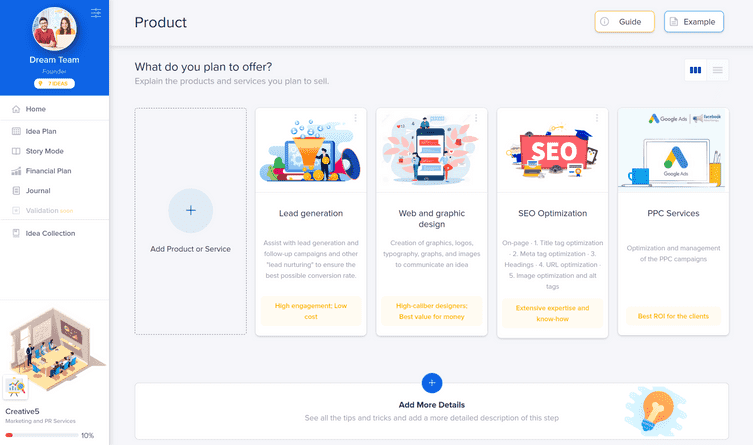 To go full-service from day one can be risky because there is a big chance that you'll get lost in the process.
Choose the services that can generate more income for you and that provide real financial value to clients, such as SEO and PPC services.
Make a promotional strategy
You can use a promotion strategy as your marketing plan to increase the demand for your agency services.
Here is a full list of inbound marketing promotional campaigns:
Use Content Marketing to drive more traffic
Explore Social Media & Email Marketing for engagement
Run Referrals for building trust
Sponsor Events for clients experience
Collaborate with Brand Ambassadors to increase brand awareness
Adopt Refunds & Rebates strategies to guarantee quality
Utilize Fidelity Programs & Patronage rewards to increase clients loyalty
The ultimate truth is – there's no perfect formula for a successful promotional plan. You can't just follow some steps and have guaranteed success – it is all about constant A/B testing.
That is why when you promote your digital marketing agency, keep in mind using all free resources and keeping the focus on your main services testing all variables.  And leave nothing to chance!
Estimated Marketing Activity
It can be challenging to decide how to invest time in digital marketing. There are so many things you can do – and it can be overwhelming.
But taking a step back to look at what you want to achieve can really help. Identify growth opportunities, and clearly define goals for the future, that will help you create a realistic digital marketing plan and well-distributed budget.
Here is an example of holistic marketing activity on digital channels for marketing agencies:
Marketing Activity
Frequency
Hours per month
Blog
Strategy, writing, SEO, formatting and design, scheduling and publishing.
1/week
25
Email Marketing
Strategy, writing, SEO, formatting and design, scheduling and publishing, contact and deliverability management.
1/week
5
Social Media
Daily social media posting, between 1-2 posts per day. Includes monitoring and responding (engaging with your audience).
2/day
6
Lead Generation
Strategy, content offer writing, SEO, formatting and design, landing page, thank you page, automated email response, scheduling and publishing.
1/every two months
20
Growth-Driven Website Design

Includes website strategy, updates and maintenance, lead conversion, copywriting, design, and more.

1/month
10
Paid Advertising
Create and manage paid advertising campaigns.
1/month
10
Reporting and Strategy
Monthly review of all marketing activities, key performance metrics, and action plans.
1/month
8
Total
84

Create a client acquisition strategy

In the early-stage, your agency is dependent on client acquisition strategy and execution – and there is a lot of pressure.
What happens when you need a constant stream of clients?
Client acquisition methods that show the most results is outbound marketing. Because in the B2B segment target audience is harder to reach with ads and inbound marketing methods.
Outreach
Using cold email to get decision-makers on the phone will help your client acquisition efforts faster than bringing them through an inbound content funnel.
So, get out your in-depth buyer personas, and let's go hunting for who you're going to reach.
Business Networking
One of the most effective ways to get clients for your digital agency is to participate in events and network with entrepreneurs, managers, and company owners. Meet as many people as you can, and talk about their business plans, goals, and global trends. Getting to know more about the potential clients will help you win businesses in the long run.
But one of the fastest ways to get your first client for a new digital marketing agency is to go for an advertising pitch.
Advertising Pitch
A pitch is how a digital marketing agency proposes marketing ideas for a product, service or brand to a potential client. Advertising Pitch needs to represent the agency's marketing strategy creatively and illustrate how their marketing endeavors will accomplish the client's goals and deliver real results.
No need for a rich portfolio, just a unique idea and a highly motivated team!
Define your partnerships
One way to add value to your agency and improve your client's revenue is by building positive relationships with complementary businesses and agencies.
Partnering with other businesses to create unique client opportunities results can lead to faster growth, higher profits and market expansion.
In that way, you two combined can offer all-in-one services where both parties can leverage on, and clients will be more satisfied.
Complementary business relationships are also more fun — for you, your agency allies and employees.
It is an agreement that can exist between a digital marketing agency and:
Design agency
SEO agency
Email provider
Hosting company
Another marketing agency
It will surprise you that many agencies are willing to pass on the work they are not able to complete or do not have the capacity to do so.
It can be a benefit to a newly established agency and help you to get additional business. Reach out to other agencies and make them aware of your services. It will help you acquire more work for your agency.
Keep in mind that once you've found a strategic partner to work with, you need to create and sign a proposal or strategic partnership agreement.
It is a beneficial bond for both sides and needs to be regulated legally.
Chapter 2: Market research
Outline your market opportunity
As a part of planning your agency business, you'll quickly find that there is no "black and white" when it comes to measuring growth.
That's why businesses choose different methods to measure size and growth.
But first to define basics.
What is the market size?
At the most basic level, market size is simply the number of potential clients that you could sell your service to.
There are two main types of market size to keep in mind
Total addressable market – this is shorthand for checking if the potential market for your agency is big enough and is usually the first type of market size to calculate.
Target or available market – this is the market size that your agency business can realistically reach.
What are the growth rates?
The label "growth rate" is broad in that it refers to the change of a specific variable over a predefined period.
Typically is expressed as a percentage. Growth rates can provide a more accurate depiction of financial health, especially when comparing percentage growth to industry rates.
But, besides measuring growth size and rate, make sure to monitor market trends and think about how they could impact your business.
This way, you can predict market fluctuations and take advantage of new market trends that can give your agency an edge over your competition.
Imagine this as a race, and as far as you can see ahead – there's a better chance for you to succeed.
Create profiles of your target clients
Trying to sell your services without understanding your ideal client is like driving with your eyes closed.
That is why you need to focus your effort on identifying your potential clients' niche.
"A Client Profile is a detailed description of your target audience; it is not an assumption – it is real data. "
But let's start with a suggestion for targeting the right clients for your Digital Marketing agency:
Early-stage startups
Entrepreneurs
E-commerce platforms
Drop-shipping platforms
Local brick and mortar companies
Your job now is to understand their pain points and explain how the services you will offer will solve their market problems.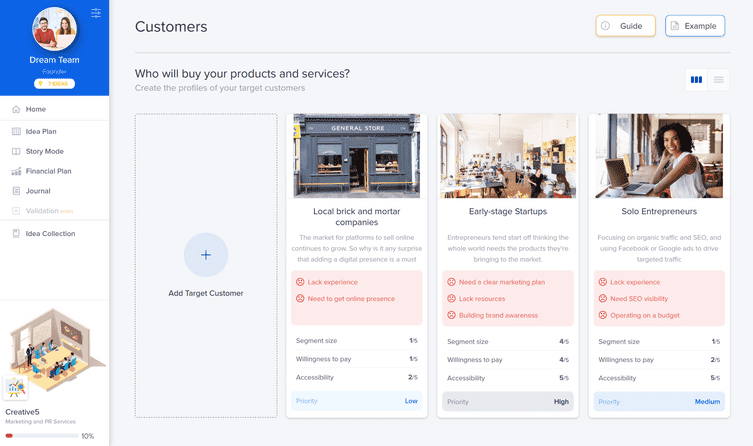 The best advice is to create an irresistible lead magnet to attract potential clients, for example, providing a free trial service, e-book guide, cheat sheet, reports templates etc.
That way, you will provide additional value to your services and let your potential clients say:
"This agency is exactly what we were looking for!"
But remember when you ensure the Opt-in list of potential clients with high-value lead magnets, it is time to justify your quality!
Evaluate your competition
You don't need the budget to hire a professional market research company. There is a way you can learn about your competition by doing some simple research on your own.
But how to do that?
Follow these 5 steps to manage your own competitor analysis easily:
#1 Identify all your competitors
Direct competition – Agencies that offer the same services and the same clients within the same geographic area.
Indirect competition – Agencies that offer slightly different services or target different clients within the same geographic area.
Substitute competition – Agencies that offer different services to the same clients within the same geographic area.
#2 Gather information about them
Services – Evaluate their services and compare them to yours. What features do you like or dislike, and who are their clients?
Pricing – How are their services priced? Do their prices adjust for partners and clients? Do they have a discount policy?
Positioning and branding – Analyze your competitors' websites, service documents. Follow them on social media and other digital channels. What are their target markets and USP?
#3 Analyze their strengths and pain points
Make a list of your competition and outline their particular strengths and pain-points.
Are they popular because of their location?
Digital channel visibility?
The quality of their employees?
Are their prices too high?
Do their services lack key features?
#4 Talk directly to your competitors
It may sound crazy, but confronting your competition in person is the best way to get to know them. It can often lead to a profitable relationship for both parties. Either way, you will learn about your competition from a whole new angle.
#5 Identify your competitive position
Evaluating a competitive landscape can help you recognize what your competitive advantage is. But be aware because this type of strategy can be easily copied by your competition and might not be profitable in the long run.
SWOT analysis
Do you want to take an in-depth look at your agency's Strengths, Weaknesses, Opportunities and Threats?
Of course, you do!
The best way to achieve that is to do a SWOT analysis for your digital marketing agency and leave nothing to chance!
It is one of the easiest ways to analyze all internal and external variables that can influence your marketing agency's future performance and help you accomplish goals.
Including SWOT analysis into your preparation is a great way to help clarify your outlining and exploratory processes. It's quick and easy to assemble, and as a tool, it's very convenient and provides a great framework for discussions.
Here is an example of SWOT analysis for a newly founded Digital Marketing agency:
Strengths
Unique and quality content
Service choices and quality
Sales channels
Weaknesses
Search engine presence
Relationships with industry influencers
The reputation of the agency in its industry
Opportunities
New technologies
Distribution channels
Competitors' weaknesses
Threats
Advertising costs
Market regulations
Clients expectations
Calculate your market potential
If we simplify it, the Market Potential is the total demand for a service in a given business environment.
For example, if you were going to write a marketing book, you would check all the books written on marketing and the sales there are.
That is your market potential.
Of course, determining the real values is very challenging, and that is where you need to use various methodologies and comprehensive research.
But we will keep it simple, and go through the 3 elements to determine your agency market potential:
#1 Determine the total market size
The most significant factor to recognize while determining market potential is your service's market size. Market size is the whole market sales potential of all digital marketing agencies put together.
#2 Calculate the market growth rate
The market growth rate can be determined by checking the facts and figures of the digital marketing industry's last five years. Many reliable websites can give you the needed data. Sometimes even newspapers do a frequent analysis of the industries that are growing and at what percentage.
#3 Define your profitability
Defining and estimating your profitability is necessary to understand the market potential. If your agency is going to give low profitability, then the volumes need to be high. But if the agency will give low volumes, then the profit needs to be higher.
Here are some of the metrics that calculate profitability to determine Market potential:
ROI – Return on investment
ROS – Return on sales
RONA – Return on net assets
ROCE – Return on capital employed
Chapter 3: Setting up the business
Calculate the total investment needed
Now we will jump right to the budget, a pain point of every business idea. But let us demystify this process and see how much cash you really need to establish a functional digital marketing agency.
Okay, let's see what you need to start right away!
Business Utilities
Website – $18 monthly; Freelancer $40+ hour; Local $100+ hour
Logos – Canva App Free; Fever $5 per; Freelancer $40+ hour, Local $100+ hour
Domain – $1.99 – $12.99 year
Email – $5 per user
Proposal – Free; $25 monthly
Reporting – Free
Payment processor – 2.75%
Beside Business utilities in your running costs, you need to incorporate marketing software needed for running an agency.
Also, it would be best if you considered software costs on a monthly basis. For example, estimate software costs for three months ahead. That is enough time to start your agency's expected cash flow.
The exact price of all software needed you can see in the Overhead costs section in Chapter 4.
When we sum up all the running costs, this is how much money you will need to start a digital marketing agency.
A minimum budget to start up your agency – it is $533.
Explore different funding options
Digital marketing agencies in an early stage of existence always find themselves struggling for sufficient financial funds. It's the bloodline of every business idea because it's just too hard to hold the ground in this immensely competitive industry without external capital.
In the era of digitization, digital marketing agencies are making a big footprint in the game. But keep in mind that a lack of funding is the primary reason behind numerous agencies' failure.
Now, if you want to go big, let's look at how you can increase funds for your digital marketing agency.
Bootstrap your agency
Bootstrapping is self-funding and a great way to finance your digital agency. Don't be afraid to dive into your savings or seek help from your friends and family.
But why Bootstrapping is the best option for your agency:
No need to give up the equity
You won't have to share the profits
No need to pay any interest
Crowdfunding
Crowdfunding has become an extremely popular way of funding, especially for young startups. You can find various crowdfunding platforms, such as Kickstarter, AngelList, CircleUp, CrowdFunder, and Fundable.
Mostly all crowdfunding platforms work in two ways:
Allowing you to raise money from anyone
Arrange pitch within a pool of investors
Angel Investors
The angel investors are individuals who are genuinely interested in investing in promising businesses. It can either be an individual unit or in a group who collectively invest in a business. But the downside is that angel investors take a significant share of the equity!
Venture Capitalists
Venture capitalists are the biggest players in this game. They usually invest in the early stages of the businesses with almost limitless potential but in exchange for the equity share. The good thing is that they offer professional guidance and expertise to help you develop your business.
Partnership
When few people come in to create something together, the resources multiply – which means more funds for your business. Also, when you have trusted partners, you can come up with more innovative ideas together.
Almost 80% of businesses associate their success with strategic partnerships.
Bank Loans
Bank usually has two financing options for digital marketing agencies:
Working Capital Loan – is a loan offered to fund an entire cycle of revenue.
Funding – requires an evaluation of the business plans, only after which the loan is approved.
NBFCs Loans
In case you didn't get a bank loan – don't worry, there is one more option. Non-Banking Financial Corporations are institutions that offer banking services without getting into legal requirements.
Build your core team
Building an effective digital marketing team might seem like a challenge! Often the difference between digital marketing success and failure is the right team by your side. With a little planning and creative thinking are all you need to build a powerful crew.
Digital Marketing Agency dream team:
Graphic Designer
Copywriter/Content writer
Social Media/Community manager
SEO Specialist/PPC Manager
Advertising specialist
Account/Project Manager
This is an ideal crew, but to start off, you just need a Graphic Designer and Digital Marketing Specialist to meet the basic client requirements.
Determine other staffing needs
You may have some difficulties figuring out your agency staffing needs. Being short-staffed can keep your business from growing and make it difficult to manage the workload. On the other hand, having too many employees can drive up your costs and become a financial burden.
Developing a strategic staffing plan that matches your agency's current and future needs and defining the skills needed for each role is the first thing to do.
Develop a staffing plan
The staffing plan is a map that outlines the exact number of positions and roles within your agency and the skills and qualifications required. It should cover your current and future staffing needs by your budget and goals.
A small digital marketing agency staffing plan includes:
The number and roles of employees needed to run the business efficiently
Existing staffing resources
Staffing projections
Gaps in your workforce
Staffing options (permanent and temporary employees).
Keep in mind that besides salaries, digital marketing agencies need to consider things such as Benefits, Insurance, and Bonuses.
Define an internal company culture
Company culture is a deciding factor for acquiring and retaining top talent employees. Structured company culture can help your agency succeed.
The studies confirmed that Digital Marketing agencies with active company cultures noticed a 4x boost in revenue growth!
Look at the company culture as much more than just workplace benefits. At its core, a company's culture is the unique set of values, behaviors, shared mindset, and vision toward the ultimate goal.
Additionally, a company culture clearly outlines your agency's core values and ultimately drives your entire company under a shared vision.
Deloitte's study showed that 87% of marketing agencies cite culture and engagement as their top challenges.
So, tend to create a workplace where your team members are equally valued, with transparent workflow and a shared mindset.
Chapter 4: Projecting your agency performance
Select your revenue model
The services your agency provides and how you bill it, become a critical part of how efficiently your business is managed.
The most popular ways to bill your clients are:
Hourly
Many consulting agencies will choose to bill their clients on an hourly basis. It is because a lot of their time is one-on-one with the clients, whether over the phone or in person.
This billing model becomes sloppy over longer and more complex service offerings, and it is not the best option.
Flat Retainer
The flat retainer billing model is the simplest of all, with fixed prices on how much the work and time for a specific client are worth, and you both agree on a flat monthly fee. Aside from simplicity, it allows you to reduce disagreement when it comes time to send out the invoice.
This way, the client knows exactly how much it's going to cost it, and if you meet their expectations, there will be no problem with the bill.
The downside to this billing model is if you have a client who scales exponentially over time.
Percentage of spend
This pricing model is the most popular among digital marketing agencies because it affects the client's scalability and growth potential.
After agencies reach a certain maturity, they will turn down clients with little or no pre-existing spending.
When you're just starting, this may not be the best option as you will want to grow your network. But, over time, you will realize that having bigger clients is far more beneficial to your agency.
Commission-based
It is one that is often used by digital marketing agencies in an attempt to gain a competitive advantage over others.
Essentially, you only get paid when the client makes money off of a sale.
Forecast revenue and growth
The main goal is to create data-backed predictions on how much cash will flow through your digital marketing agency in a given time, based on assigned revenue, upcoming projects, and prospective clients still in the process.
Revenue forecasts are essential for long-term financial planning and longer-term goal-setting, including setting revenue targets, benchmarking performance, and keeping agency growth stable.
Main benefits of revenue forecasting
At its core, revenue forecasting has two main objectives:
Creating a system to set up and meet financial targets
Identifying and managing new market possibilities
They're general goals, but also affect nearly every aspect of your agency.
The Revenue Forecast Process
Although the exact revenue forecasting method can differ depending on your agency objectives, here is the basic outline.
Agencies typically start by deciding whether they want to create time-based or object-based forecasts.
The question is:
Would you want to calculate revenue from month to month?
Or are you trying to calculate the revenue intake of a specific client?
Consider whether you want to evaluate a timeline or a particular variable.
Most agencies find that running 3-month revenue forecasts gives them the best insight.
Beyond the 3-month check, there's just too much volatility.
Be sure to subtract costs and operating expenses to find your gross profit.
Then review your marketing pipeline and outline all possible revenue streams that haven't yet been performed.
Look at these as your emerging opportunities!
Identify your recurring revenue
According to HubSpot's marketing agency growth report, 57% of digital marketing agencies have less than three months of cash flow.
The solution? Recurring Revenue.
For a digital marketing agency, Recurring Revenue means you'll have secured income from month to month.
Make sure that your clients pay for services from month-to-month, rather than just a one-time fee. This way, you can plan your budget more efficiently, with no fear will you pay your staff on time.
Example
Suppose your agency will earn $500,000 in revenue each year, and half of it is recurring. It means that 50% of your total annual revenue is self-sustaining.
When you know that money is constantly coming in, you will be less stressed about cash flow. And your marketing team spends less time acquiring new clients and more on developing and testing new marketing strategies.
Recurring revenue can keep your agency afloat and provide a certain level of security.
As an agency, you know what monthly costs you'll have:
Salaries
Loan payments
Accounts payable
But also, various unexpected costs can come up like office supplies, scope creep, etc.
Establishing a recurring revenue stream, dealing with all these associated in running an agency will become instantly less stressful.
Set your marketing budget
Creating a marketing budget for a digital marketing agency involves a lot of testing. But this trial and error approach is both expensive and inefficient.
You need to look at the marketing budget as the engine that keeps your team on the right track.
The best way to start preparing your marketing budget is to pick up a percentage of revenue to spend on marketing and select your campaign goals and strategies depending on what fits within the budget.
This is one of the best methods to determine the marketing budget:
The early-stage digital marketing agency should allocate 12-20% of estimated revenue toward digital marketing
Agencies that are 1-5 years old should allocate 6-12% of revenue
Now when you know what percentage of estimated revenue goes to marketing, it's time to break down the highest priority projects into realistic timelines.
Estimate other overhead costs
Overhead costs directly affect your agency's profit. It can easily devour your business if not monitored in real-time.
However, agencies generate many non-billable expenses that must also be identified as overhead.
That reason why is because overhead costs greatly affect your agency's profitability, whether your agency is running smoothly, or most of your staff suddenly switched to remote work, overhead is unavoidable.
The truth is that you will never get rid of these expenses. You can still reduce them by monitoring, planning, and deciding to recognize certain costs as investments.
What your agency's fixed overhead will most likely include:
Facility costs include office rent, equipment, interest on mortgage payments, business insurance, property tax, regular cleaning services, etc.
Salaries of non-billable employees and professional services include sales, office management, human resources, marketing teams taxes, accounting services, etc.
Licenses and plans include software licenses, web hosting, internet, phone line, etc.
The most common monthly overhead cost for digital marketing agency are facility and legal costs, as well as monthly software fees:
Facility and legal costs
Rent – Home Office Free; Coworking Space $100-$200 monthly; Office Space $400+ monthly
Internet – Home Office Included; Shared $80 monthly; Business $120 monthly
Legal – SBA Free; Prepaid $40 monthly; Local $150-$250 hour
Accounting – SBA Free; Local $60+ hour
Phone – Personal Free; Landline $20+ monthly; New Cell Phone $80+ monthly
Insurance – General Liability $20+ monthly; Professional Liability $20+ monthly
Bank Account – Free (w/ $300 minimum balance)
Software fees
Ahrefs – $99/$179/$399 monthly
Microsoft Suite – $9.99 monthly
Keyword planner – Free
Screaming Frog – Free; $149 monthly
Keyword tracker – $49/$99/$399 monthly
Google Ads– Free
Google Drive– Free
Facebook Business Manager – Free
Calculate your profit margin
Various business levers can influence agency profit margins.
The most impact has the billing rate, which is the amount of money you end up with after dividing your total revenue by total working hours.
The average digital marketing agency margin is clustered closely around 18%. Like the billing rate, this is heavily affected by the size, the location of the agency, the types and sizes of clients and projects.
In addition to this, the agency's cost basis (employee costs mainly) will heavily affect margins. Since employee costs make a significant part of expenses, a higher hourly billing rate typically equals this.
To sum up, the profit margin depends on how your agency is structured and your services' nature.
You can expect to make a 15-20% margin that goes up to 30% for the first year. On the other side, an outsourcing agency that just keeps a marketing team, margins can be as high as 100%.
Have your learned how to start your digital marketing agency?
Okay, this was fun! A little bit overwhelming, but that is the magic of following your dream!
Now you have a complete ULTIMATE GUIDE on how to start a digital marketing agency from your home office and there is no going back!
What's stopping you to start right away?
IdeaBuddy makes the full process easier, from conceptualization to execution. Sign up for free and start developing your dream digital marketing agency today.